Welcome to the "Women Driving Circularity" series, part 6. In this part, we feature the inspiring story of Ms. Tran Thi Thoa.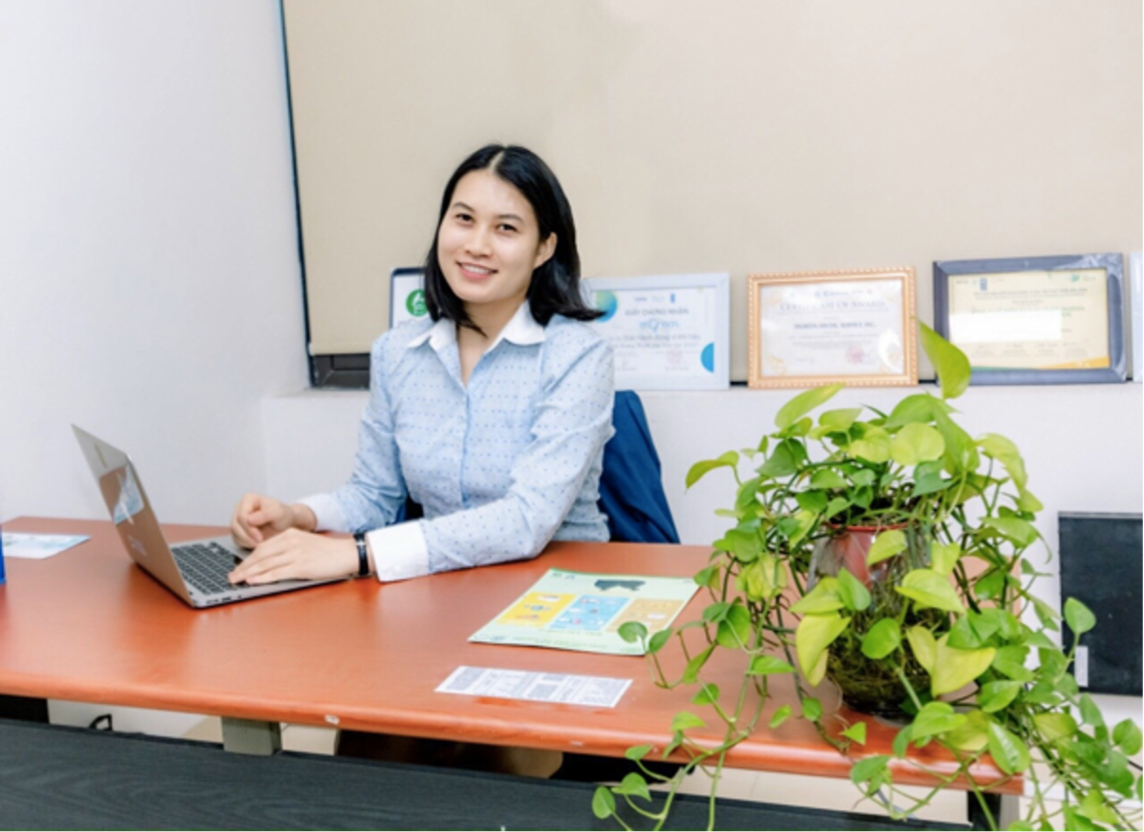 Ms. Tran Thi Thoa, CEO and Co-founder of mGreen Social Enterprise.
Since its founding in 2018, mGreen Social Enterprise has been implementing the mGreen app, a waste segregation at source and points accumulating app.
Ms. Thoa shares her concern about the life of informal waste workers that is difficult, unstable, and their poor working conditions. On the other hand, the resourceful materials from recyclable waste are still being discarded and buried underground due to non-segregation. Meanwhile, the technology revolution 4.0 has empowered the common labour, and provided them with better employment; according to the Law on  Environmental Protection2020, the producers and importing enterprises are required to implement EPR (Extended Producer Responsibility), which comprises of collection and recycling of post-used packages.
Having realized the opportunities, mGreen has been founded with the mission to tackle waste bottlenecks; connect the waste source with waste workers and the brand via the mGreen point-based system through the mobile application.
mGreen is the pioneer in implementing technological solutions, connecting the authorities, waste owners, waste workers, brands, producers, and the community, towards the circular economy. Some significant collaborations include:
Collab with the Ha Noi, Ho Chi Minh, and Vung Tau authorities.
Collab with Unilever, Nestle, SCG Corporations.
Collab with Long Son Petrochemicals Company, and urban environmental sanitation companies (Urenco, Citenco, etc.)
Connect with 300 stores for promotions and gift redemption
One of the achievements stemming from these partnerships is attracting about 20.000 households to join waste segregation, contributing to the assembly of 200 tons of recyclable waste.
A waste and gifts redemtion via mGreen mobile app in Ha Noi.
Soon, mGreen is planning to seek more cooperation with producers and importers; implement waste segregation projects nationwide, as well as enhance the corporation with other stakeholders of the waste system.
To actualize these, there's a call for support and active participation from multiple partners. Therefore, mGreen looks forward to collaborating with manifold sides to implement a circular, recycling ecosystem, with the aim to build a greener and cleaner Viet Nam.
Story and photos shared by Ms. Tran Thi Thoa
Read how UNDP is advancing a gender-sensitive inclusive Circular Economy: The tactics "3Vs" to drive a gender-inclusive circular economy – Viet Nam Circular Economy