Ha Noi, 12 December 2021 – The Awards Ceremony honouring excellent authors and their winning entries to the Press Award in Mitigating Marine Plastic Debris was held on 10 December 2021 at the Voice of Viet Nam (VOV) Theater.
Joining the ceremony were Mr. Do Tien Sy, Member of the Party Central Committee and VOV General Director; Mr. Ngo Minh Hien, VOV Deputy General Director; Mr. Vu Hai Quang, VOV Deputy General Director; Mr. Ngo Que Lam, Deputy Director-General of the Viet Nam Administration of Seas and Islands (VASI); Mr. Patrick Haverman, Deputy Resident Representative of the United Nations Development Programme (UNDP) in Viet Nam; Ms. Tran Thi Hai, Director of the Sustainable Development Programme at the World Wide Fund for Nature (WWF) in Viet Nam; media agency leaders; and journalists, reporters, and the winning authors.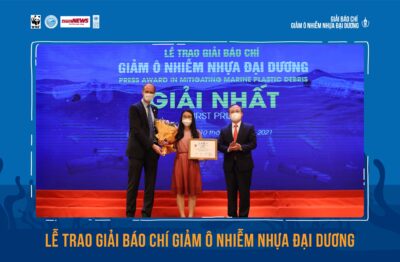 The Press Award in Mitigating Marine Plastic Debris was organised by VTC News in collaboration with UNDP Viet Nam, WWF Viet Nam, and the "Mitigating Marine Plastic Debris" project management board. This Award was created to honour reporters and journalists for their outstanding articles and documentaries on the topic of marine plastic pollution. Through this, the role of mass media in communications activities to reduce marine plastic waste can be further emphasized, thereby improving the quality and format of these works on the topic.
Despite the fact this is the first time the award has been organised, and especially in the midst of the complicated COVID-19 pandemic situation, the Press Award received many high-quality submissions on various themes, successfully reflecting the current status of marine plastic pollution and suggesting potential solutions.
In the two months after its launch, the Press Award received hundreds of submissions from 64 media agencies and individuals in Viet Nam, of which 206 were eligible to move on to the pre-selection round.
Many entries were presented in a modern format, such as mega stories, e-magazines, and articles with engaging reportage. Authors' commitment to and investment in featuring exclusive, impressive footage and information was frequently clearly shown.
Specifically, many submissions were received from media agencies in mountainous areas such as Tuyen Quang, Yen Bai, and Ha Giang, and many others from freelance authors, including 21 entries coming from teachers and students of Phu Tho Secondary School in An Giang province, clearly demonstrating the impact that this Award has had on people from a wide range of different backgrounds.
After the pre-selection and final selection rounds, the panel of judges agreed to award prizes to 13 submissions according to a set of criteria on content, theme, and format.
The first prize was awarded to "Portrait of Life: Green Cu Lao Cham Island" from Viet Nam Television; two second prizes were awarded to "White Pollution: Worry of Not an Individual" from Tuoi Tre Thu Do Online Newspaper and the series "The Seabed is Floating Because of Plastic Garbage" from Ngay Nay E-magazine; three third prizes were awarded to "Impactful Posters on Marine Plastic Waste" from VTC News, "Addressing Plastic Waste in the Mountainous Area" from Tuyen Quang Online Newspaper, and "A Family's 10 Days Traveling Without Plastic" from VOV Online Newspaper. Five honourable mentions and two prizes for 'Most Impressive Topic' were also awarded.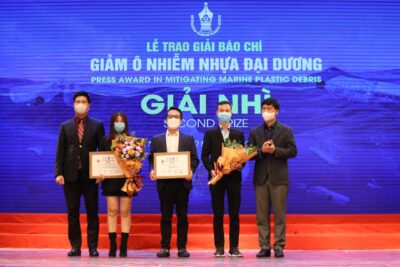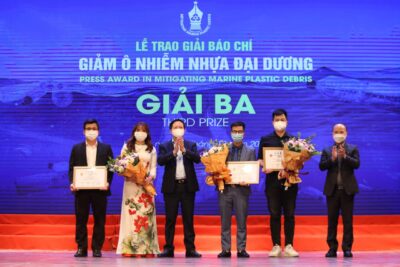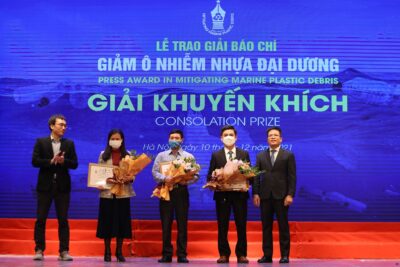 Mr. Đỗ Tiến Sỹ, VOV General Director, stressed that media agencies play a crucial and irreplicable role in protecting the environment by raising the public's awareness on environmental policies and their sense of responsibility.
However, environmental journalists and reporters are facing several challenges, such as press commercialisation, difficult requirements from their agencies, and the general public's varying level of understanding of environmental issues.
"As such, the Press Award in Mitigating Marine Plastic Debris has acted a recognition and honour for the achievements and contributions of journalists and reporters to protecting the environment in general, and reducing marine plastic waste in particular. The award has also helped to plant the seed for policy solutions and innovative models on environmental protection, contributing to the country's sustainable development," said Mr. Do Tien Sy.
At the award ceremony, Mr. Nguyen Que Lam, VASI Deputy Director-General, said that the Press Award in Mitigating Marine Plastic Debris once again affirmed the attention and recognition of stakeholders, governmental agencies, international organizations, and the media agencies themselves for environmental journalism.
This is a source of encouragement for further promoting the key role of mass media in communication to protect the marine environment and reduce marine plastic waste.
"I hope that the Press Award in Mitigating Marine Plastic Debris will be extended with more active participation from international organizations, non-governmental organizations, media agencies, reporters, and journalists to further promote the key role of the press in communication to mitigate marine plastic waste and protect the marine environment," said Mr. Nguyen Que Lam.
Mr. Patrick Haverman, Deputy Resident Representative of UNDP in Viet Nam, shared: "As we all know, plastic has no border. Plastic pollution is destroying our planet; estimations show that plastic production will increase by 40 percent by 2030. Viet Nam and some other ASEAN countries have been ranked among the largest producers of marine plastic waste in the world."
Plastic pollution affects first and foremost the poor, those who live near dumpsites and landfills, those who eke out a living from collecting, sorting and reselling waste, and those whose livelihoods depend on healthy marine ecosystems, such as coastal communities. Actions and solutions to combat plastic pollution are already taking shape in many countries around the world, and Viet Nam is well placed to be at the very center of the fight. One solution is to continue raising awareness and encourage behavioural change towards eradicating single-use plastic and calling for action to reduce marine plastic pollution.
"The Press Award in Mitigating Marine Plastic Debris 2021 is a chance for the press to accelerate news/media coverage on plastic pollution and raise the awareness of then community to say no to single-use plastic, as well as act and live in a greener and more sustainable way. This is also an opportunity to encourage policy makers and authorities to do more at the national and local level to combat plastic pollution," said Mr. Patrick Haverman.