Dr. Nguyen Trung Thang, Deputy Director of ISPONRE, said that plastic waste pollution is considered one of the most serious and urgent environmental problems in Viet Nam and around the world. According to survey data conducted by ISPONRE, the average number of single-use plastic bags in supermarkets is about 104,000 bags/day, equivalent to 38 million bags/year.
Products from plastic and nylon were born, bringing many conveniences and have become an indispensable part of many people's lives. However, the durable and non-degradable characteristics of plastic and nylon products have been polluting the environment, leaving unpredictable consequences for human health and animals and plants on earth.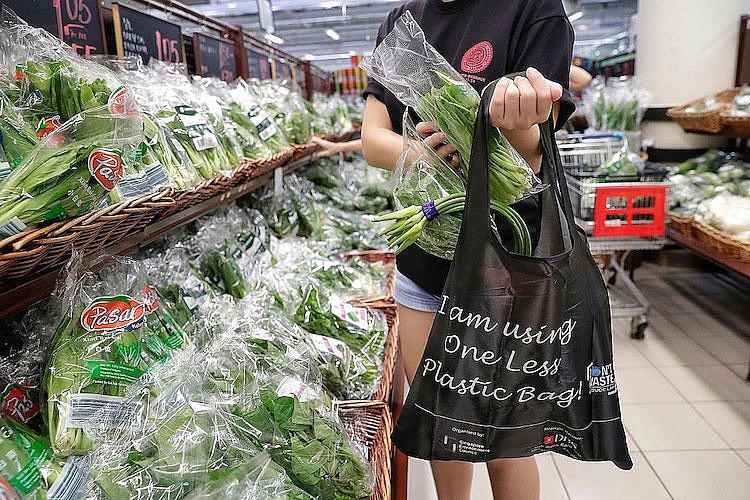 Illustration
Recognizing the serious risk of plastic waste to the environment, many legal documents of the state have been issued at different levels, setting the goal of striving to use 100% plastic bags by 2025, environmentally friendly packaging in commercial centers and supermarkets for living purposes as an alternative to difficult-to-decompose plastic bags; gradually reduce production and use of non-biodegradable plastic bags and disposable plastic products in daily life.
The workshop aimed to discuss plans to reduce single-use plastic bags at some retailers. At the same time, it is a forum for retailers to discuss initiatives to reduce plastic bag consumption, contributing to replicating successful models to achieve the Government's goal of reducing plastic waste pollution.
At the seminar, representatives of retail units presented their plans to reduce plastic bag consumption in the near future, focusing on key activities such as communicating to change customer behavior, implementing the program " The day without using plastic bags." The workshop also discussed cooperation opportunities from related initiatives such as the Business Alliance for the Environment, the Plastic and Health Action Partnership in the implementation of the Alliance action plan
Nguyen Thi Hong, Central Retail Viet Nam Group, said that as a member of the Alliance of Retailers to reduce plastic bag consumption, Central Retail Group has implemented the use of biodegradable plastic bags at checkout counters in supermarkets to serve customers since 2013.
Currently, all of Central Retail's supermarkets are no longer selling single-use plastics such as plastic straws; at the same time, piloting the use of biodegradable plastic bags made from cornmeal and potatoes; apply the business of banana leaf-wrapped vegetable products – environmentally friendly, to help customers accompany the supermarket in environmental protection, vegetable products (celery, green asparagus, cilantro, basil, lettuce, laksa leaves, herbs, dill, coriander)…
For customers, supermarkets of Cetral Retail apply to sell Lohas bags (a durable, reusable bag) at a non-profit price (8,900 VND/big bag; 5,900 VND/small bag), encourage customers to bring this bag when shopping…
Dr. Kim Thi Thuy Ngoc, ISPONRE, said that by December 2021, 16 retailers had registered to join the Alliance of Retailers to reduce plastic bag consumption. The Alliance's action plan has been agreed by the members including: communication, increasing awareness and changing customer behavior; implementing promotional programs to encourage customers to reduce their consumption of plastic bags; training and capacity building for cashiers and related officers; organize talks and policy dialogues.
It can be said that the establishment of the Alliance of Retailers to Reduce Plastic Bags is the first initiative that brings together retailers, helping them find a common voice in reducing single-use plastic. The introduction of practical, specific and timely activities and solutions is expected to be a source of encouragement and encouragement for the retailer community, represents the spirit of active engagement for the environment and sustainable development in Viet Nam.
Thoi Dai Newspaper