On 02 December 2021, Viet Nam Institute of Fisheries, Economics and Planning (VIFEP) and the United Nations Development Programme (UNDP) organised a workshop on "Reducing plastic waste in the fisheries sector, promoting a Circular Economy and moving towards a Blue Economy".
The workshop aimed to share and exchange information on the development of the fishery sector in the blue economy theme and status of plastic waste in this marine economic sector; propose solutions to reduce, collect and recycle waste from fishing vessels; and create directory for specific interventions at Quy Nhon fishing ports, under an upcoming project between UNDP and Binh Dinh province. Viet Nam is a country with a long coastline which is considered as potential for marine economic development. However, Viet Nam is also considered one of the countries with a high amount of plastic waste discharged into the sea every year.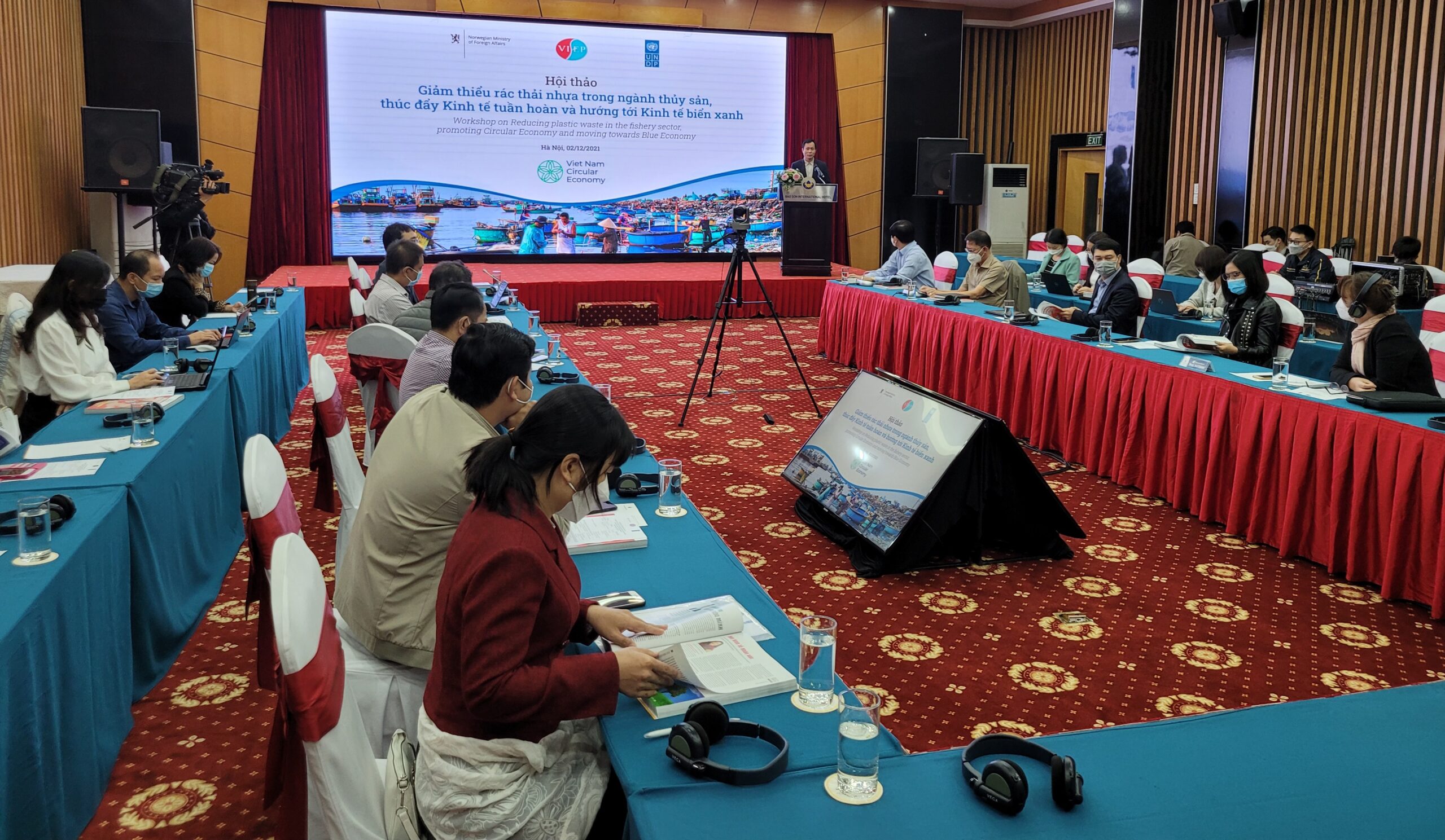 According to the State of the National Sea and Island Environment Report for the 2016-2020 period released by the Ministry of Natural Resources and Environment in early August 2021, plastic waste, including marine plastic waste, is an emerging issue globally. It is estimated that more than 70 – 80% of marine plastic waste originates from the land.
The rest is plastic released directly into the sea, mainly from fishing activities such as lost or discarded fishing gears, which are deadly to marine life and make up the majority of large plastic pollution in the oceans. Only in Quy Nhon Fishing Port of Binh Dinh province, 100% of fishing boats have no waste collection equipment and 100% of fishing boats do not bring waste back to shore.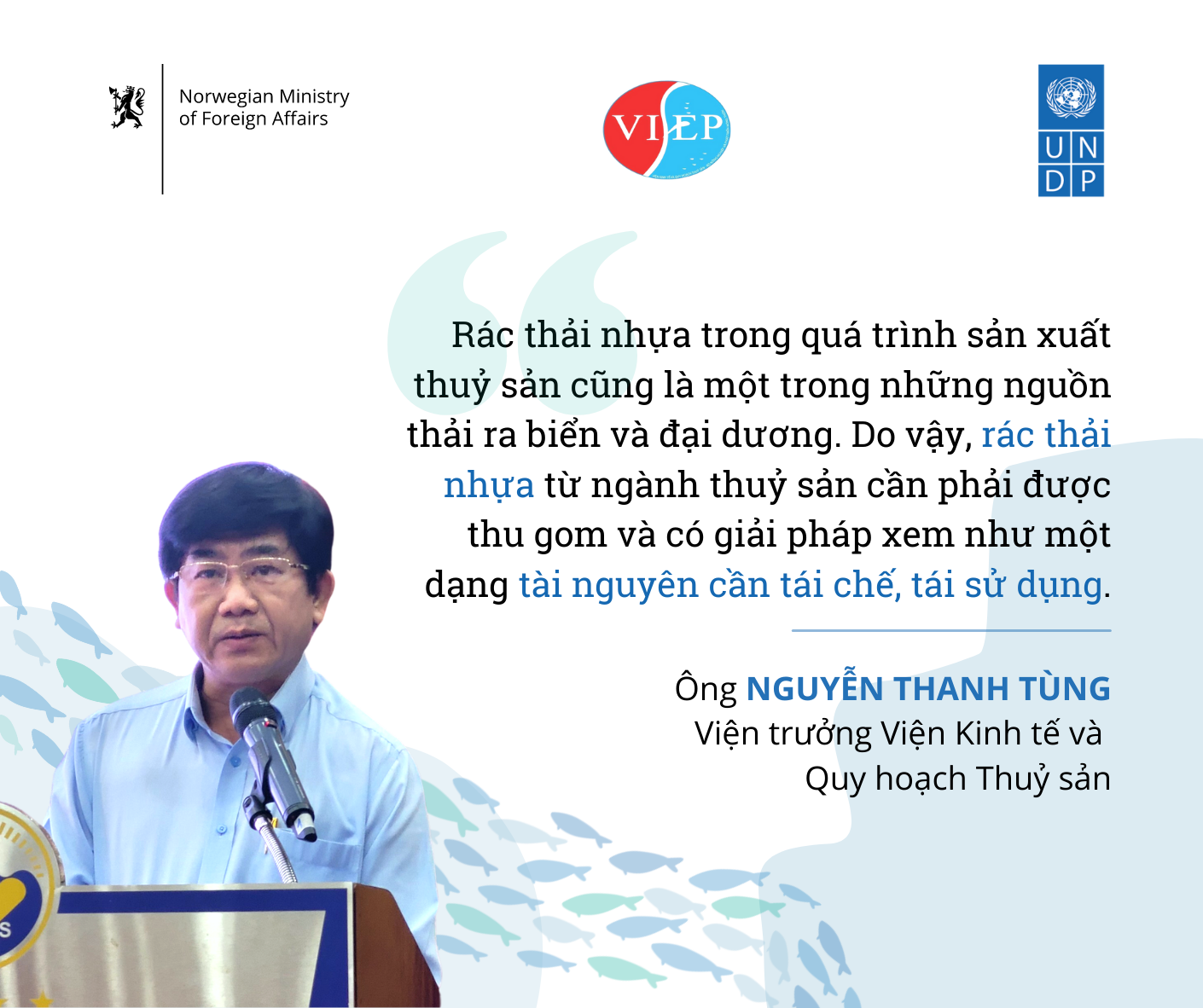 "In the production phase, the fishery sector needs to use plastic materials. Plastic waste generated in the seafood processing is also one of the sources discharged into the environment. Therefore, plastic waste from this process needs to be collected and considered as a resource to be recycled and reused", said Dr. Nguyen Thanh Tung, Director of VIFEP, at the workshop.
According to the National Action Plan on ocean plastic waste management, by 2030, Viet Nam will reduce 75% of ocean plastic waste, 100% of fishing gear lost or discarded. 100% of resorts, tourist attractions, accommodation, and other services along the coast will not use single-use plastic products and non-degradable plastic bags. 100% of protected areas have no plastic waste.
In order to reduce the plastic waste from the fishery sector and move forward to the blue economy, it is essential to apply circular economy principles.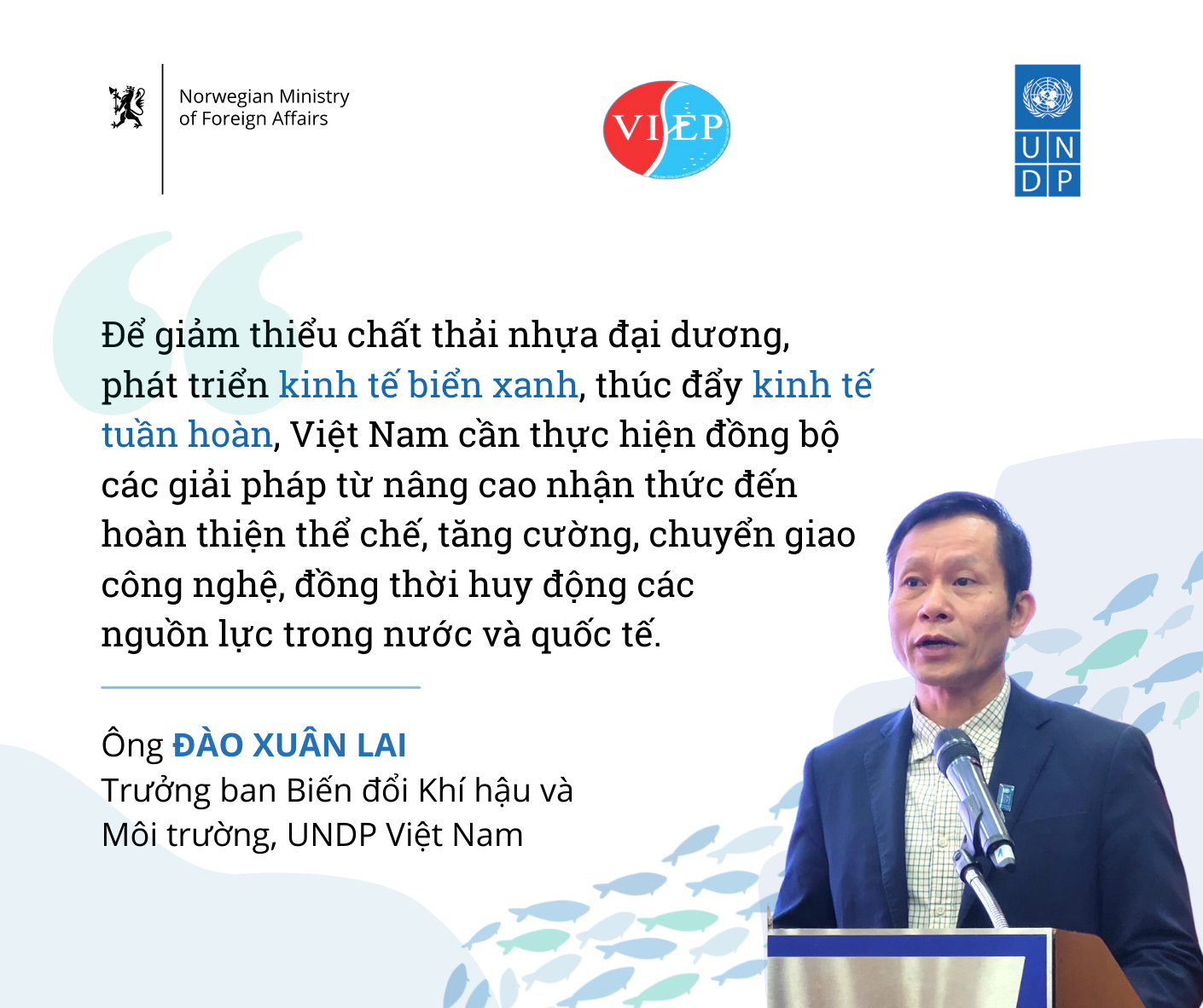 Mr. Dao Xuan Lai, Head of the Climate Change and Environment Unit, UNDP Viet Nam stressed: "In order to mitigate marine plastic waste, develop Blue Economy, and promote Circular Economy, Viet Nam needs to implement several measures parallelly, such as raising awareness, strengthening policies and legal framework, transferring technology and mobilizing international and domestic resources." He mentioned that this workshop would provide "important inputs for UNDP and the People's Committee of Binh Dinh and Quy Nhon to develop and implement effective models to collect waste from fishing boats and at Quy Nhon Fishing Port".
At the workshop, experts proposed a model to collect and recycle plastic waste from fishing vessels to be piloted at Quy Nhon Fishing Port. The proposals included (i) technical support to enable fishing vessels to store waste during journeys , (ii) development of local regulations to encourage fishing vessels to bring waste back to shore, and (iii) establishment of a collection system at fishing ports once the waste is brought back to sea port. This collected waste can later be transferred to the Material Recovery Facilities in Quy Nhon City for further processing and recycling.
Online and offline participants were representatives of Viet Nam Administration of Seas and Islands, Directorate of Fisheries, Departments of Ministry of Agriculture and Rural Development, Department of Agriculture and Rural Development of Binh Dinh, Quang Ninh and Da Nang, Quy Nhon City People's Committee, Quy Nhon and Tho Xuan Fishing Port Management Boards, Binh Dinh Department of Natural Resources and Environment, international organizations and NGOs such as WWF, NPAP, UNIDO, JICA, GIZ, Oxfam, and experts.