Ha Noi, 7 December 2021 – The British Embassy in Hanoi, the Vietnam Ministry of Natural Resources and Environment (MONRE), and the United Nations Development Programme in Vietnam co-organised a Workshop sharing key outcomes of the UN Climate Change Conference COP26, with the participation of Development Partners, representatives from the Boards of the Communist Party of Vietnam, the National Assembly, Ministries, non-governmental organizations, enterprises, and experts in the field of environment, natural resources and climate change. COP26 took place in Glasgow, the UK from 31 December to 13 November 2021.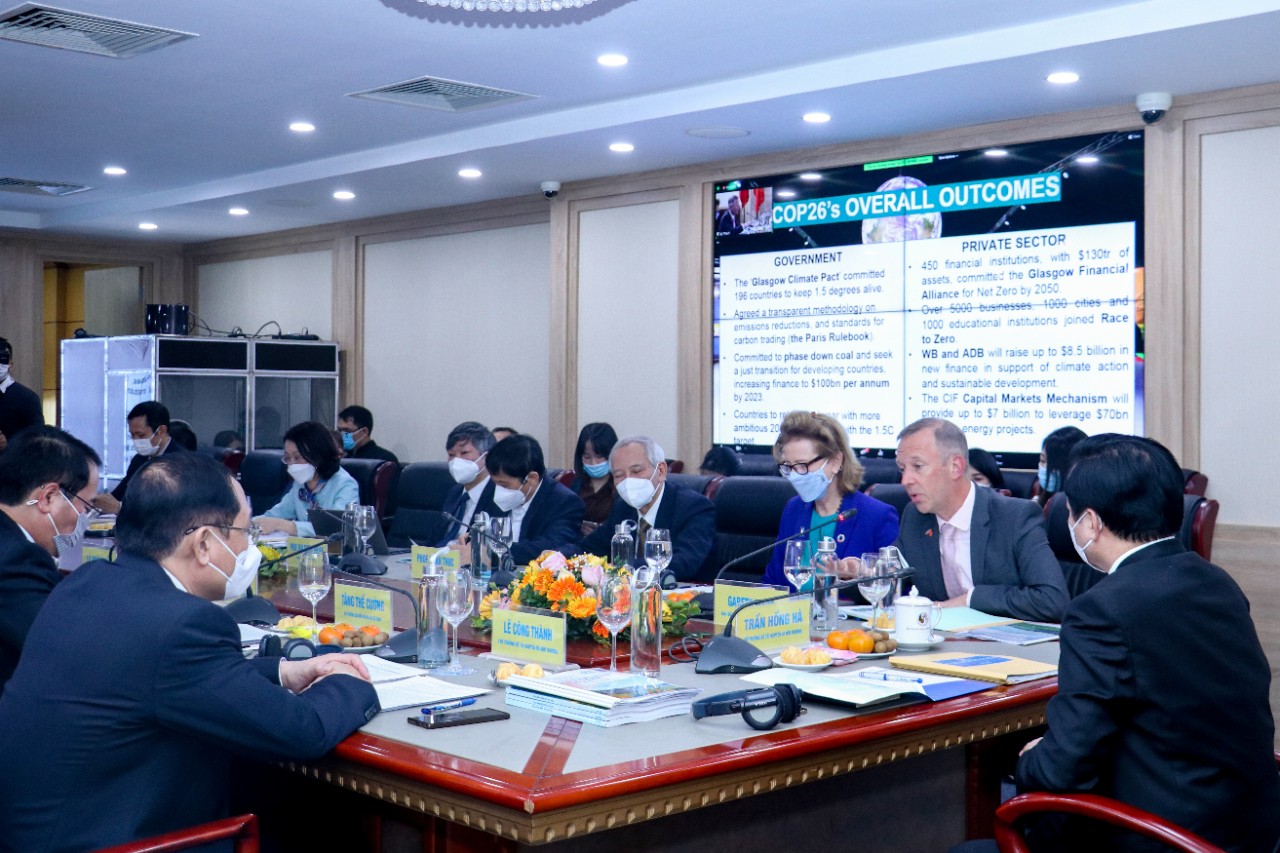 The Workshop opened with British Ambassador Gareth Ward presenting on COP26 high-level outcomes. COP26 concluded in Glasgow with nearly 200 countries agreeing on the Glasgow Climate Pact, which will speed up the pace of global climate actions to keep the 1.5C target alive. All countries agreed to revisit and strengthen their current emissions targets to 2030, known as Nationally Determined Contributions (NDCs), in 2022.
The endorsement of the Glasgow Climate Pact marked the finalisation of the Paris Rulebook, the guidelines for how the Paris Agreement after six years of discussions. This will allow for the full delivery of the landmark accord. There were also commitments to significantly increase financial support through the Adaptation Fund as developed countries were urged to double their support to developing countries by 2025.
Minister Tran Hong Ha described Vietnam's new climate commitments that Prime Minister Pham Minh Chinh made at COP26 and Viet Nam's plans to implement them. At the COP26 World Leaders Summit, the Prime Minister announced strong commitments to tackle climate change, emphasizing with its own resources, along with the cooperation and support from international community's, especially from developed countries, both in terms of finance and technology transfer, including implementing mechanisms under Paris Agreement, Vietnam will develop and implement strong emission reduction measures to achieve net-zero emissions by 2050. Viet Nam has also agreed to support a number of important statements and initiatives on protecting forests, shifting to clean energy, supporting adaptation for local communities, and methane reduction. All of these statements further strengthen Viet Nam's commitment to tackling climate change.
Speaking at the event, British Ambassador to Viet Nam, Gareth Ward shared:
"Vietnam's announcement of 2050 net-zero target demonstrated impressive climate leadership, sending an important signal to the international community about the sustainable direction of Viet Nam's economic development. Looking ahead, the UK alongside development partners are committed to stepping up and supporting Viet Nam's delivery of its new climate commitments with an improved offer of financial and technical assistance. We want to support Viet Nam's Government to find the right combination of increased public investment, drawing on ODA and concessional loans to reduce the cost for the country, and regulatory measures to make Viet Nam attractive for green investment in the next 20 years."
Ms Caitlin Wiesen, UNDP Resident Representative at Viet Nam shared:
"We congratulate Viet Nam for being a consistent champion of multilateralism, for its leadership in advocating people-centred, inclusive and sustainable growth in both regional and global settings. We especially commend Viet Nam's exemplary commitment to raising ambitions and joining global efforts to combat climate change. It is now time to align policies, legal framework, strategies, plans, investments to achieve these new targets. Net-zero carbon emissions by 2050 is an ambitious target, but achievable with the strong leadership of the Government. UNDP is committed to working closely with the Government, development partners, businesses, scientists, women, youth, and local communities, to pursue a whole-of-government and whole-of-society approach for realizing the new climate ambitions. This will be complemented by simplifying regulations to enable the business sector to contribute fully to a green economic rebound with people at its centre."
Click here to read the full speech
Full video of the workshop here